Rewards Programs
Amazon Smile
Support Newman using Amazon Smile! Be sure to use this link, or click on the Amazon Smile image before you head to Amazon to do your shopping and the Newman Center will receive 0.5% of your purchase total!
Schnucks Community Card
Do you do your grocery shopping at Schnucks? Did you know that a percentage of your purchases could be donated back to the St. Thomas More Newman Center? Here's how it works:
Pick up a card at any Schnucks Store. You can also pick one up in the office from Joe Bradley.
Register your card online or call (800) 931-6258.
Select St. Thomas More Newman Center as the organization you would like a percentage of your sales to go to.
Shop at Schnucks and have your card scanned when you check out.
Your purchases create automatic contributions of up to 3% of your purchase price. Access your personal reports online to see how much you have earned.
eScrip Online Mall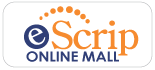 Shop from hundreds of the same online merchants you know and trust. Just use this link to access the eScrip Online Mall and up to 16% of your purchases will go back to Newman! Online merchants include: Apple Store, Amazon, 1-800 Flowers, Home Depot, J. Crew and many, many more!
eScrip Dining
Earn up to 5% for the Newman Center, simply by dining out! Dine at participating restaurants and Newman receives a percentage of the sales. It's that easy! No flyer required. Simply enroll in the program here. Restaurants in Columbia include: Room 38, CJ's Hot Wings, Quinton's, Which Wich, Chris McD's, Jazz, Lone Star Steakhouse, Deuce Pub & Pit, Osaka, and Truman's Bar & Grill.